Xperia 20 - Sony is preparing another smartphone with a 21: 9 screen on Snapdragon 710 and a dual camera
July 11, 2019 • Android • News • Sony • rumor
Many users have become accustomed to the fact that news of Sony's smartphones is becoming less and less every year. But despite this, the brand continues to produce gadgets, and in 2019 there is even a revitalization of the company, there is some kind of vigorous activity. The Japanese manufacturer decided to focus on widescreen devices with displays, the ratio of which is not less than 21: 9. This favourably distinguishes Sony gadgets from competitors' devices, since the Japanese innovations are narrower and longer. Sony itself explains this by the fact that its plans include the creation of devices for the consumption of content, especially films and serials, which are mainly removed by a 21: 9 aspect ratio. Also, this format provides more convenience when using two applications at once with multi-windowing, since more content is placed due to less trimming of application interfaces by windows.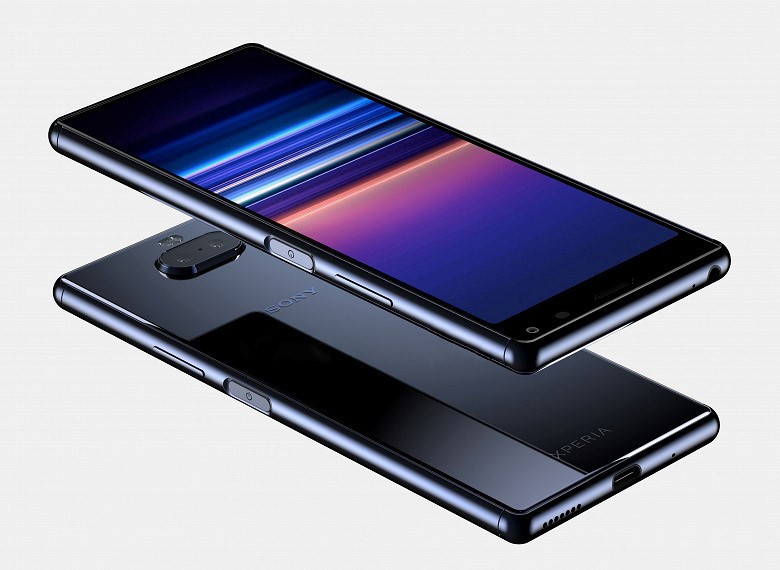 Sony Xperia 20 - first details on the middle range model on the Snapdragon 710
Sony relies on content, which is quite logical, so it prepares another widescreen full-screen device called Sony Xperia 20. The novelty will replace the Xperia 10. The network already has the first renderers from trusted sources, and if they really are true, then there won't be any significant changes in the outlook. The same glass case as the Xperia 10, a similar placement of controls, cameras, the same large frame on top of the display and a virtually absent "chin." However, some noticeable differences are still observed and they consist in the location of the fingerprint scanner. In Xperia 10 it is located on the side face and is a separate unit, then in Xperia 20 the fingerprint scanner on the side face is integrated into the power button. This solution is more practical and logical.
But all the major changes will be hidden inside the device. The first thing to be replaced is the processor. The Xperia 10 was released on an old and not very powerful Snapdragon 630 processor, and the new Xperia 20 will be equipped with Snapdragon 710 chip, which is great for heavy games and has a decent power reserve. The memory of the new Sony will be from 4 to 6 GB, the cameras are supposed to receive a resolution of 12 MP each - this applies to the main module, and the selfie camera will receive a resolution of either 13 MP or 16 MP. The display itself will again be able to please users with an aspect ratio of 21: 9, a diagonal of 6 inches and a resolution of Full HD +.
At the moment, Sony does not disclose any details regarding the release date of the Xperia 20 or its value. However, the announcement of new items can take place very soon, most likely at the event IFA2019, which is scheduled for September this year.
Subscribe to our newsletter or follow us on FB and get notified with our promotions and new launches.