TOP 5 reason to buy Samsung Galaxy Note 10 and Galaxy Note 10 +
August 10, 2019 • new-launch • News • Samsung
The other day in New York, Samsung Galaxy Note 10 and Galaxy Note 10 Plus were presented - the new super flagships of the South Korean brand. These two smartphones are absolute tops. If the spring presentation of the Samsung Galaxy is the tip of the iceberg, then the announcement of the Samsung Galaxy Note is the whole ice floe. Here on these two new Samsung came off in full. In this article, we will tell you about the main features of new products.
Goodbye mini-jack – say hello to IP68 and a glass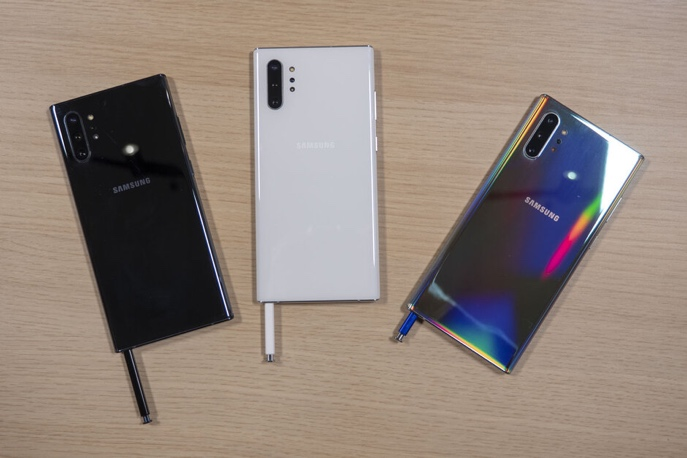 The Samsung Galaxy Note 10 and Galaxy Note 10 Plus are state-of-the-art smartphones with character. It seems that their design is nothing special, but compared to other devices - they are just stars. The angular shape, truly frameless design (occupies 94.2% of the front panel), unusual colors and, of course, the S Pen stylus, which is hidden inside smartphones. Well, look, at the photo of the new products: I really want to pick them up, I want to use them. This year, the Samsung Galaxy Note family has got two modifications: Note 10 with a 6.3-inch screen and Note 10+ with a 6.8 '' screen. They refused the 3.5 mm connector, but this is a step forward. Thank you, Samsung, for holding on for so long and not giving up. But the Samsung Galaxy Note 10 and Galaxy Note 10 + now have top-end IP68 waterproof and Gorilla Glass 6 shockproof glass. A neatly placed front camera also draws attention - exactly along the center axis of the display. It looks fresh and attractive.
Mobile photography as a work of art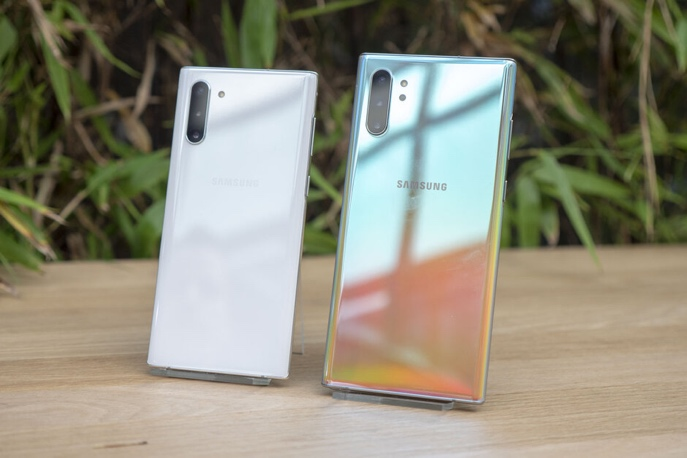 Samsung flagships have been in the top of the best camera phones for more than one or two years. Sensors produced by a South Korean company have a long history and a huge number of developments. Samsung Galaxy Note 10 and Galaxy Note 10 + have at their disposal a cool front camera with 10 MP. It is built right into the screen, which can cause a confusion for those who do not follow the world's trends. The company emphasized the speed of focusing a selfie camera, and also introduced a special night-time shooting profile, which should raise the level of self-portraits to a new peak.
As for the main cameras, there are some differences. The Samsung Galaxy Note 10 Plus has an optional fourth DepthVision camera, while the Samsung Galaxy Note 10 does not. However, in all other respects, the characteristics of the device cameras coincide:
Main sensor - 16 MP f / 2.2 (123 °)
The second is a 12MP wide-angle lens, 2PD autofocus, f / 1.5 / f / 2.4 OIS (77 °)
The third is a 12 megapixel telephoto lens with aperture f / 2.1 OIS (45 °)
Even the technical characteristics show that smartphones will shoot just amazing. Of the interesting modes, Screen Recorder is worth to mention. Its an application what allow you to stream from the smartphone screen and supplement it with comments in real time using the S Pen.
Magic Wand S Pen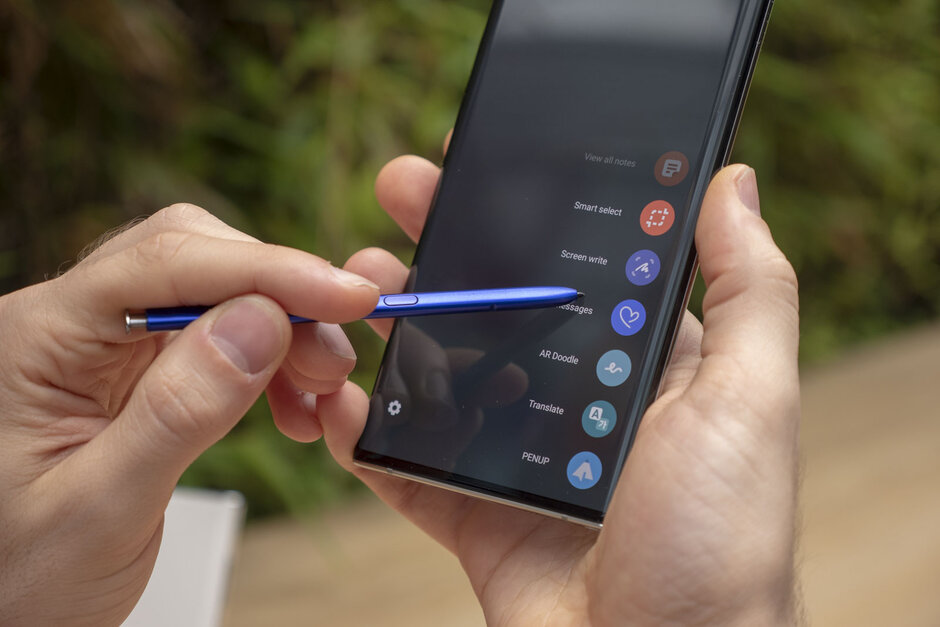 The S Pen is by far the best stylus on the market. It works exactly as the assistant for quick notes should work. But S Pen not only knows how to turn handwritten text into a standard Word format. S Pen can control the smartphone like a magic wand: you just need to wave it in front of the smartphone and, for example, the slide will turn over or another photo will turn on. As for the battery, the accessory lives 10 hours on a single charge.

Samsung Exynos 9825 - a real competitor to Snapdragon 855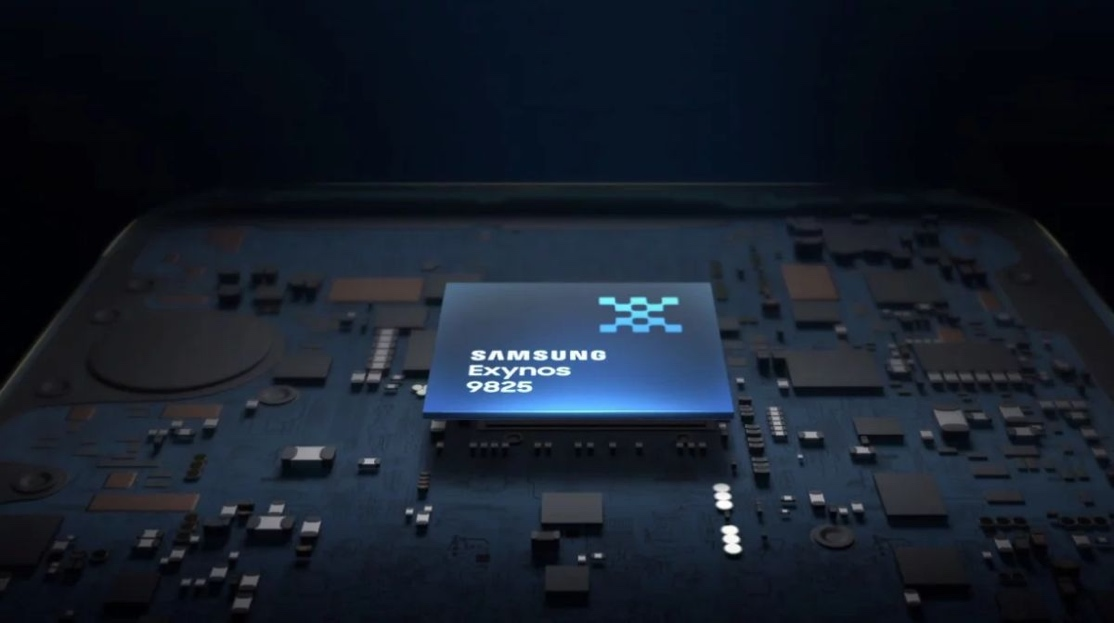 Samsung Galaxy Note 10 and Galaxy Note 10 Plus are not just about beauty and mobile photography. This is also about power. On board smartphones, a new Samsung-made chip, Exynos 9825, will work. This chip is a direct continuation of the Exynos 9820 model. The novelty has become much more powerful due to the acceleration of Cortex-A75 cores from 2.3 GHz to 2.4 GHz. The processor itself is built on a 7-nm process technology and consists of eight cores, the maximum frequency of which is 2.96 GHz. The graphics controller is responsible for the graphics controller Mali-G76 MP12. Naturally, no one offended the flagships in the amount of RAM and ROM: the basic model got 10 GB of RAM and 256 GB of permanent memory at its disposal, and the modification with the "+" prefix got 12 GB of RAM and 256/122 GB of internal memory. There is another important point: the younger model does not have a slot for a memory card, while the older one has microSD up to 1 TB. What about the performance of the Samsung Galaxy Note 10 and Galaxy Note 10 Plus? These are real techno monsters. No games and programs will be able to download these smartphones at 100%.
Fast charging Super Fast Charging 2.0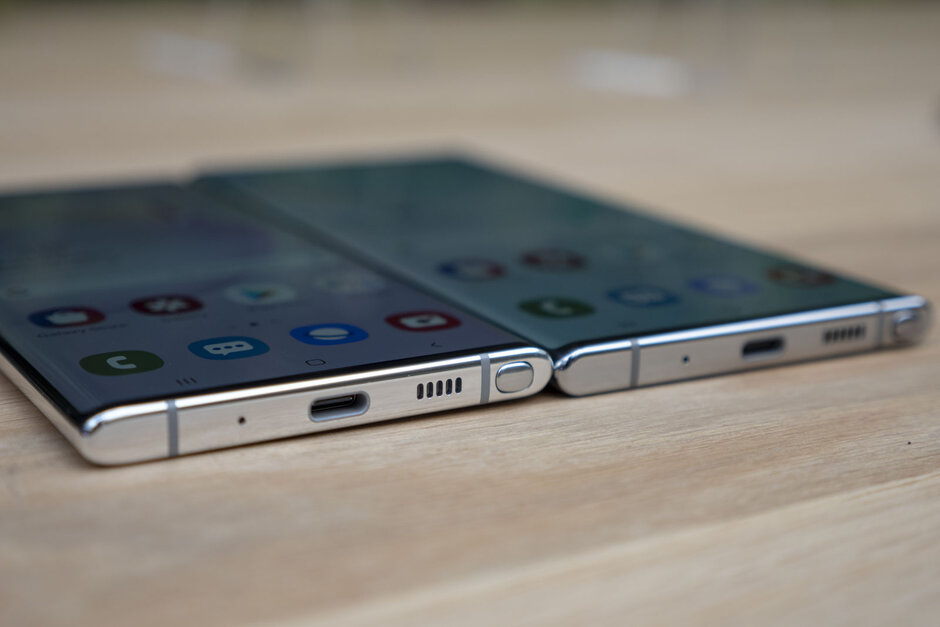 For a long time the quick charge function was ignored by customers. However, with the modern rhythm of life and our constant need for gadgets, fast charging is important. Samsung Galaxy Note10 and 10+ have support for Super Fast Charging 2.0. The technology, frankly, is not super-fresh (first appeared on the S10 5G), but from that it did not become less cool. Samsung Galaxy Note10 and 10+ charge from their own power supply in less than an hour. If you are interested, then the battery capacity of the Samsung Galaxy Note10 is 3,500 mAh, while the older model with a large screen has 4,300 mAh.
Pricing and release date for the Samsung Galaxy Note 10 and Galaxy Note 10 +
Samsung Galaxy Note 10 and Galaxy Note 10 Plus is a luxury segment, so do not think that the company will ask for a little money for its flagship development. If you tag in Samsung Galaxy Note 10 and Galaxy Note 10 +, then you can afford absolutely any smartphone. Smartphones will officially go on sale on August 23 and it might available on ETOREN even earlier! You can Subscribe to our newsletteror follow us on FB and get notified with our promotions and new launches!