Samsung Galaxy S10: review of Samsung flagship 2019
February 22, 2019 • Android • new-launch • News • Samsung
The anniversary generation of Samsung smartphones simply could not be a failure - you simply can't make a mistakes during the presentation of the 10th generation of the flagship line of Samsung Galaxy smartphones. At the event in San Francisco, Koreans scored a full ride by presenting several smartphones at once: Galaxy Fold - the world's first commercially bending smartphone, three phones from the Galaxy S10 family and one special version of Galaxy C10 with support for 5G networks. In general, the evening of February 20 turned out to be hot. Lets take a look at the base model of the newly-minted line - we will review the Samsung Galaxy S10.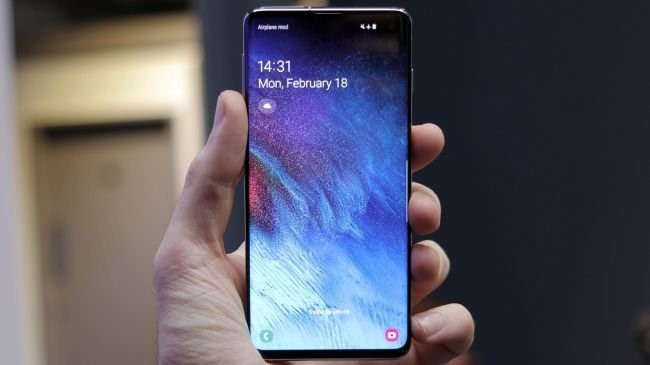 Samsung Galaxy S10 - design
For a while Samsung was on a lead of the market trying to grope their unique design. Only starting from Galaxy S6 their flagship smartphones began to show their own style, which is also recognizable from the recently introduced smartphone. Samsung Galaxy S10 is a trendless frameless smartphone that stands out from the crowd. Perhaps it stands out exactly as long as hard-working Chinese have not made copies, but at point of time the design of the Samsung Galaxy S10 is unique. What did they do? In principle, nothing special. The front panel of the Samsung Galaxy S10 is a solid screen. The front camera was embedded in the Amoled-matrix, using the technology of infinity-O, the fingerprint scanner was hidden under it, the conversational speaker was transferred to the junction of the screen and the top face. Thus, the display of the Samsung Galaxy S10 occupies almost 90% of the front panel - simply beauty.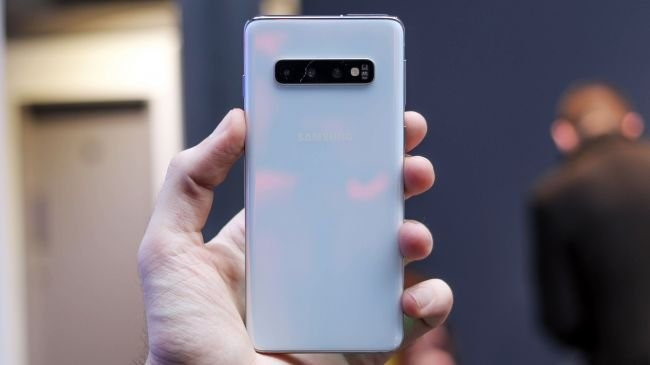 An island of three cameras and a flash are located behind Samsung Galaxy S10, arranged in a horizontal line. Looks fresh, stylish, original. Slightly lower on the back cover of the Samsung Galaxy S10 you can find the inscription "Samsung", unfortunately. The main body material is glass. Marked body, but not slippery. And you can use the Samsung Galaxy S10 with one hand - framelessness allows you to fit a 6.1 inch display in your palm.
Samsung Galaxy S10 - screen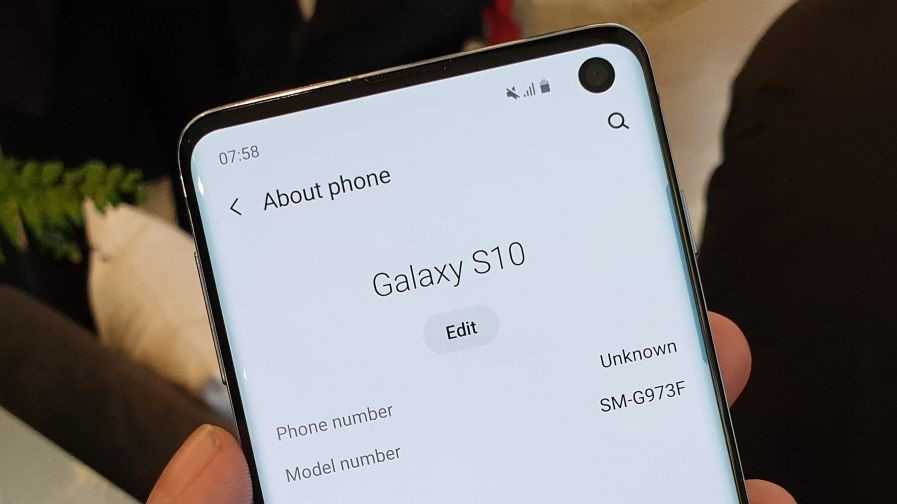 Display Samsung Galaxy S10 is smartphone decoration. Together with the smartphone South Korean company introduced a new matrix - Dynamic Amoled. In addition to improved energy efficiency, it rid off one old lack of all Amoled screens — excessive brightness. Display Samsung Galaxy S10 is able to "adapt" to their surroundings, choosing the best color profile, and giving a soft and natural picture. And these are not just a words - the difference is visible even in photos where there is a screen of Samsung Galaxy S10. If we are talking about the rest of the display characteristics, they are at the absolutely top level: resolution - QHD +, diagonal - 6.1 '', pixel density - 551 PPi, protective glass with oleophobic and anti-reflective coating, whose faces are rounded.
Samsung Galaxy S10 - Performance
Galaxy S10 is a powerful smartphone. This is indicated not only by the bare numbers, but also by the results of synthetic tests through which they have already managed to drive out the novelty. In the Antuta synthetic test Samsung Galaxy S10 scores 360,000 points, which automatically sends it to the list of the most powerful smartphones of today. Depending on the region, the Samsung Galaxy S10 can be sold with two processors on board: either the Exynos 9820 or the Snapdragon 855. Both chipsets are top solutions for their time. Helping the processor to cope with the tasks will be 6 GB or 8 GB of RAM. Under the built-in memory, the manufacturer allocated 128/512 GB. Unfortunately, the 256 GB version was not shown. Ability to expand memory using a memory card left: Samsung Galaxy S10 supports microSD up to 512 GB.
Samsung Galaxy S10 - Camera
If you count the cameras on the case of the Samsung Galaxy S10, then you will find four sensors there: three at the back and one at the front. On the back of the hero of our review is located that curious triple:
Base Camera - 12 megapixel module with interchangeable f / 1.5-f / 2.4 aperture.
Optional sensor - 12-megapixel module, which provides a two-fold optical zoom and the ability to create photos with a blurred background.
The third module is a 16-megapixel sensor with an f / 2.2 aperture and a viewing angle of 123 °.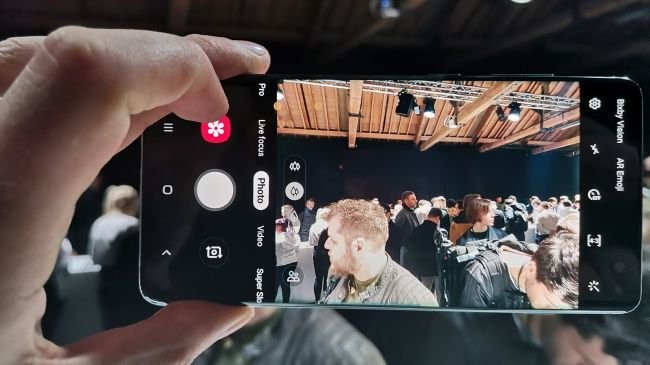 The front of the Samsung Galaxy S10 is a 10-megapixel f / 1.9 aperture module that can record video in 4K resolution.
Samsung Galaxy S10 - conclusions
Samsung Galaxy S10 is indeed a cool smartphone. It has the features that a top-end smartphone should have: a stylish design, a large and frameless screen, advanced cameras and maximum performance. Of course, it is expensive, but for high technology has to pay serious money.
Samsung Galaxy S10 Specifications:
Materials: glass + aluminum
Dust and moisture protection: yes, IP68
Screen: 6.1 inches, matrix-Dynamic Amoled, resolution 1440х3040 pixels, protective glass Corning Gorilla Glass 6
Processor: eight-core Samsung Exynos 9820
Graphics: ARM Mali-G76
RAM: 6/8 GB, the frequency of operation - up to 2133 MHz
ROM: 128/512 GB
Antutu: 370,000
Main camera: 12 + 12 + 16 Mp
Front camera: 10 + 8 megapixel
Number of SIM slots: 2, Nano-SIM
Memory card support: yes, nanoSD
Bluetooth: 6.0
Unlock: Fingerprint scanner under the screen + Face Unlock
NFC: have
Dimensions: 70.4х149.9х7.8 mm
Weight: 157 grams
Battery: 3,400 mAh
Operating system: Android 9.0 Pie + One UI
Subscribe to our newsletter or follow us on FB and be the first to get notified with availability of this gadget.