Samsung Galaxy A70: all you need to know
May 23, 2019 • Android • new-launch • News • Samsung
Samsung continues to delight users with brand-new smartphones with excellent parameters and at an affordable price. Previously, Samsung did not practice this and evaluated its devices very expensive, but the increased competition in the market forced the brand to reconsider its pricing views. The new smartphone Galaxy A70 is another confirmation of the fact that now you can buy Korean devices today without thinking. Cute, advanced, inexpensive - now all these advantages are not only Chinese smartphones, but also Korean ones.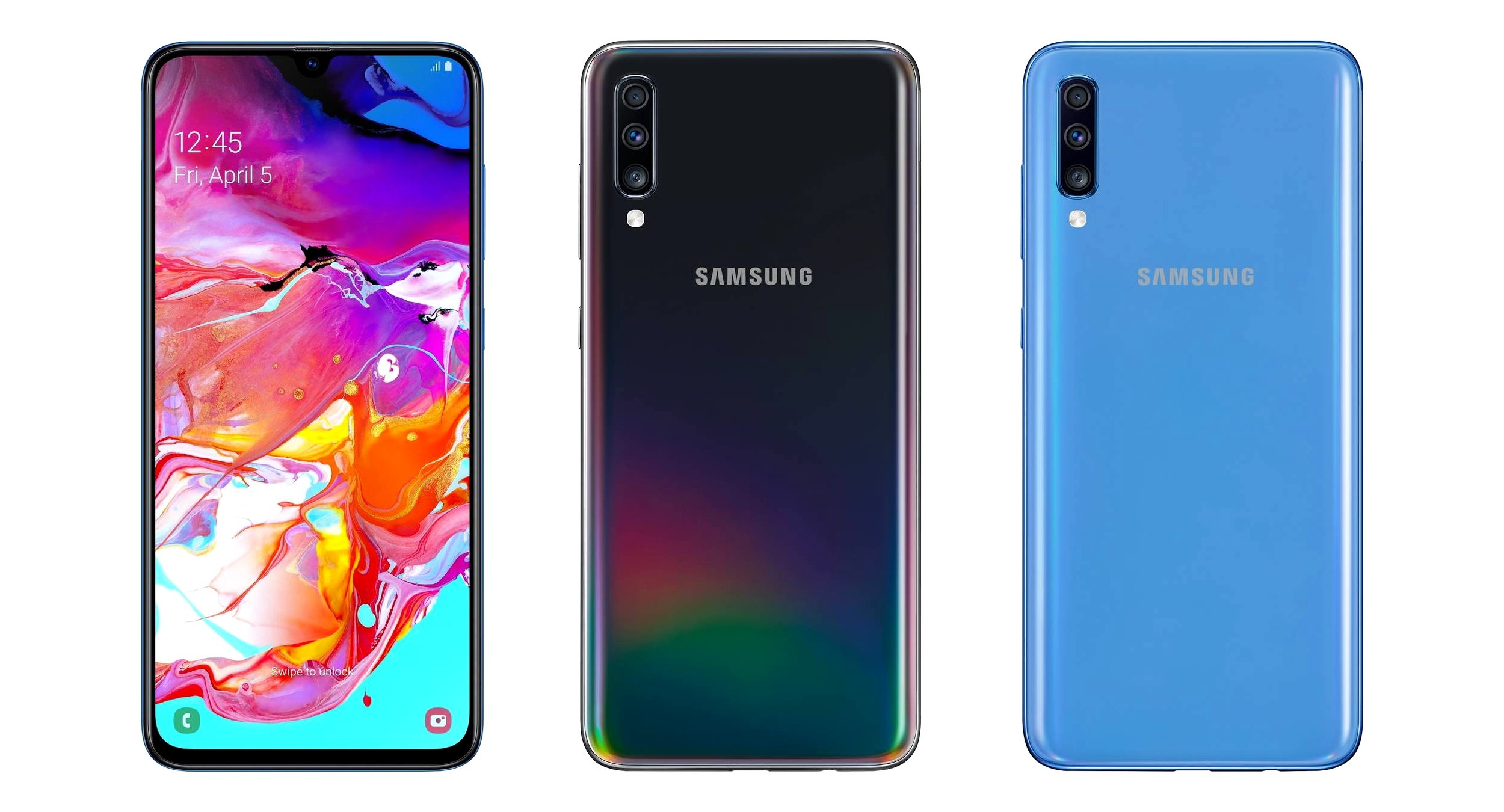 Galaxy A70 - review and features of one of the best subfragments
The appearance of the smartphone is typical for 2019, because the device offers a stylish glass case and a completely frameless screen with a small teardrop-shaped cutout. The device is interesting in that it can be purchased in several interesting colors: coral, white, black with a gradient, and also blue.
The screen at the device is just a flagship level. A large diagonal of 6.7 inches, a resolution of 2400x0180 pixels, an aspect ratio of 20: 9 and an amazing AMOLED matrix. The display has a very accurate color reproduction with high brightness, saturation and contrast of the image. The Galaxy A70 processor is no less interesting since it is a sub-flagship solution with sufficiently high power. The performance of the Snapdragon 675 chipset is enough for all tasks, including demanding games of the latest generations. And in order for the processor to cope with all the tasks, it has as much as 6 GB of RAM. The device offers a constant memory of 128 GB, which can be expanded with memory cards.
It is impossible not to agree with the fact that in modern devices the camera is very important. And both the main and the front are important. Galaxy A70 offers a 32 megapixel + 5 megapixel + 8-megapixel main triple photo module. The main sensor has a high-aperture lens with f / 1.7, and the other two lenses with f / 2.2. The main sensor is designed to create photos with high resolution and detail in virtually any shooting conditions. A 5-megapixel sensor is needed to create portrait photos with a blurred background (bokeh), and an 8-megapixel sensor paired with a wide-angle lens provides frames with a viewing angle of about 120 degrees. The front camera is no less good since its resolution is 32 MP.
The undoubted advantage of the gadget is its huge 4500 mAh battery with support for fast charging. Also, the Galaxy A70 has an NFC, USB Type-C, 3.5 mm jack module, Bluetooth 5.0 and a fingerprint scanner directly below the display. Fingerprint under the display is a new trend in the world of mobile technologies and the Galaxy A70 corresponds to the latest trends in technological fashion. Most importantly, you can buy all this just at $400, which for A-brand is definitely not an exorbitant value.
Subscribe to our newsletter or follow us on FB and be the first to get notified with availability of this gadget.
You can also order at your website and become the first owner of this novelty!