Pixel 3 & Pixel 3 XL Rumors Solidify As Launch Draws Closer: A Summary
October 05, 2018 • Rumours • new-launch • Android • Google
Google plans to unveil new phones in New York on this coming October 9, source from Bloomberg says. Several new features are expected to be coming to the Pixel 3. Meanwhile, a spate of leaks for the Pixel 3 XL is going on.
Rumors has it that the latest Android OS known as Android Pie will likely be pre-installed in Pixel 3. The classic Pixel features such as swiping down for notifications and squeezing the sides for the launching of the Google Assistant will be included with and new ones. We will be covering some of the key rumoured features in this article.
New UI features
An alleged Google marketing video shows the latest elements coming to the Pixel 3. For instance, the extended pressing of the power button will allow users to take screenshots. The new Pixel's camera will be able to recognize and draft email from a business card. Pixel would also be able to recognize a restaurant name in an email and prompts user to make a reservation.
Standing charger for the new Pixel 3 series
The Pixel Stand charger is the wireless standing charger for the Pixel 3. A purported image of it reveals a white dock with an orange bottom and a USB-C cable attached to it.
This Stand is supposedly meant to turn your Pixel 3 into a smart display with shortcut access to music apps, the Google Assistant and notifications.
That aside, XDA developers also found evidence of wireless charging support in an Android Pie beta release.
Audio appreciation is taken to another level for Pixel 3 XL
Unboxing videos by certain Russian bloggers that have been circulating around show that the phone come with a pair of Pixel Buds in-ear wireless ear buds.
A leak from Gizmo China the Pixel 3 XL has two front-facing speakers for a more immersive sound experience. Leaked images also show that the speakers will be on the front bottom bezel.
Appearances of Pixel 3 phones
This time round, Pixel 3 XL is rumoured to be more than a larger version of the Pixel 3. Unlike the Pixel 3 which is going to be notchless, it will have a notch to accommodate the improved camera system.
The Pixel 3 line up will be available in the following colours (known so far): white, black and "sand"(as shown in the picture below). Another colour 'mint' is rumoured to be announced on the launch date.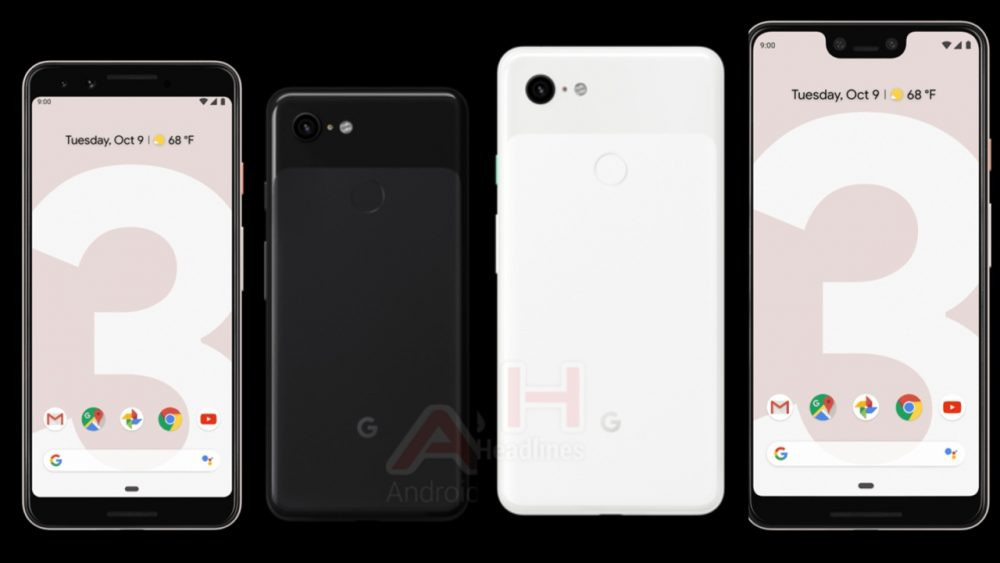 Specifications
Both models should sport the Snapdragon 845 together with at least 4GB of RAM and 64GB of storage. Active Edge functionality for invoking the Google Assistant will be present as well as a USB-C port. The Pixel 3's screen resolution would be at 1,080 x 2,160px while the XL would get 1,440 x 2,960px. The batteries in the smaller model and larger one are purportedly a 3,000 mAh cell and a 3,430 mAh cell respectively.