Meizu 17 and 17 Pro - a detailed overview of the two flagships that sell as hot cakes
May 19, 2020
The other day something happened that many people were waiting for - two flagship companies from Meizu were presented. The novelties called Meizu 17 and 17 Pro were very similar to each other with little, but still a difference. The devices really much-anticipated and the fact that the first batch of flagships were bought in just a minute, only confirms the interest of users. The Meizu 17 and 17 Pro turned out to be interesting, somewhat innovative - at least with the design they are excellent and have their own zest. So let's take a closer look at the gadgets that came out.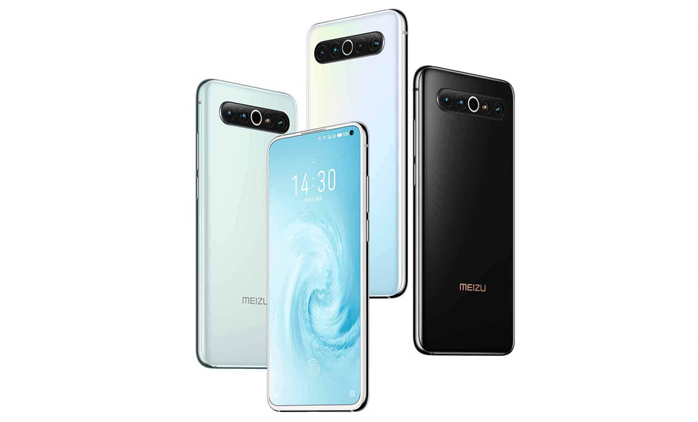 Meizu 17 and 17 Pro - Flagship design.
Now that some brands are still riveting old-fashioned smartphones with a vertical camera unit, and 98% of the others mimic Apple in one way or another, Meizu is going its own way. Many people, looking at the devices, can say that the company borrowed last year's design from Samsung and will be right, but only partly. Yes, yes, the Meizu 17 and 17 Pro have found a unit with the main cameras, located horizontally, and this is all that unites the released smartphones with Samsung devices of the past years. Now Samsung also imitates Apple, but Meizu has nothing in common with merchants. The area with the cameras looks great in the novelties, unique and does not copy anything, so that no other mobile devices Meizu 17-series will not be confused exactly. That's definitely a plus.
Nothing new in the front - a frameless display and a camera for selfies, located in the hole in the upper right corner of the screen - its diameter is only 3 mm. However, it is nothing new for others, and for fans of Meizu a fresh sip as earlier the module of the selfi-camera the company had in the top tiny frame. To sum up: it was great then, and now. As for the cabinet materials, there's really nothing new here: the glass in the front and back and the aluminium frame in the middle. The only thing worth noting is that the back of the Meizu 17 Pro is made of ceramic. There are four colours: green, white, black and grey.
The Meizu 17 and 17 Pro are smartphone features.
If you take two devices and look at them, it is unlikely that anyone will notice the difference in appearance. The essence of the Pro-version is that it was equipped with a little more memory, a little different set of cameras and everything like that. That's why we decided to dwell on the characteristics of the Pro-version in more detail, and then to clarify the difference between the usual Meizu 17 modification and it.
Meizu 17 Pro - specifications
- Screen: AMOLED Matrix, 6.6 inches, Full HD+ resolution (2340x1080), brightness 700 nits and peak up to 1100 nits, contrast 2000000:1, 100% DCI-P3 display format 20:9, support for Always-On Display and HDR10+, update rate 90 Hz and touch layer sampling rate up to 180 Hz, useful area 92%;
- Chipset: 8-core Qualcomm Snapdragon 865 with up to 2.84 GHz, Kryo 585 cores, 7 nm process, 64 bits, mEngine 3.0 coprocessor;
- Video accelerator: Adreno 650 with up to 587 MHz;
- Operation: 8 GB LPDDR4X or 12 GB LPDDR5, with frequencies up to 2133 and 2750 MHz respectively;
- Drive: 128/256GB UFS 3.1;
- Memory Cards: None;
- 5G NSA and SA networking and 4G LTE Cat.20 support - loads over 2 Gbps;
- SIM: nano-SIM + nano-SIM (hybrid slot), Dual SIM Dual Standby (DSDS);
- Wi-Fi 6, Bluetooth 5.1, USB Type-C;
- Navigation: GPS, GLONASS, Galileo, BeiDou;
- Main camera: four sensors, 64 megapixels (Sony IMX686 1/1.7", 1.6 μm (4-in-1), OIS, f/1.8) + 8 megapixels (telephoto, f/2.4) with 3x optical and 8x hybrid zoom + 32 megapixels (width, f/2.2, 0.8 μm, viewing angle 129 degrees) + 3D ToF sensor, 6 LED backlight;
- Self-camera: 20 MP with f/2.2;
- Sensors: approximation, illumination, accelerometer, optical fingerprint scanner under the screen, vibromotor with 4D haptic response;
- Sound: stereo speakers;
- Battery: 4500 mAh, Li-Ion, non-replaceable, fast 36W, wireless 27W, reversible 10W BZ;
- OS: Android 10 + FlyMe 9 shell;
- Dimensions: 160 x 77.2 x 8.5 mm;
- Weight: 219 grams.
And now let's clarify the difference between the Meizu 17:
- The smartphone has no more than 8 GB RAM standard LPDDR4X;
- Instead of the TV camera the device was equipped with a 12 MP portrait camera with f/1.9, the resolution of the wide-angle module was reduced to 8 MP with a viewing angle of 118 degrees, and instead of a depth sensor 5 MP macro camera is used;
- No wireless charging in the smartphone, and wired power is reduced to 30 W;
- Weight of the smartphone is 199 grams.
Of all the above, the Meizu 17 Pro is the most interesting camera at the moment. I wonder how well the 3x optical zoom works and is the 8x hybrid zoom ready to compete with the 10x hybrid zoom of its competitors?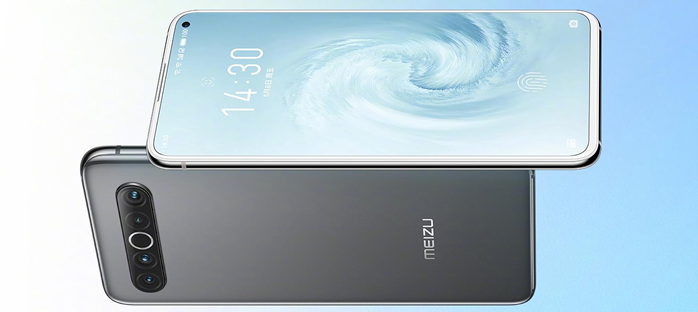 Meizu 17 and 17 Pro - comparison with Meizu 16s Pro
Let's briefly compare how much progress the company has made regarding the last flagship Meizu 16s Pro. The first thing that catches your eye is the disappearing top frame above the display. If the 16th series of devices looked symmetrical, now in gadgets Meizu there was only a tiny bottom "chin". Behind changes concern only the location of the main camera, it was vertical, and also the size of the block itself with photo modules.
There are much more differences in the characteristics. The Meizu 16s Pro has a powerful, but still losing its relevance Snapdragon 855 Plus, no support for 5G networks, a smaller display of 6.22 inches, which, in addition, is also weaker in terms of characteristics. It has less coverage of the color space DCI-P3 (96%) and, accordingly, worse color rendering, 2 times lower contrast and almost the same amount of brightness of the matrix.
In Meizu 16s Pro uses an outdated photo matrix IMX586 for 48 MP, there are 20 MP camera with only 2x zoom and 16 MP width, but the depth sensor is not available and to make a high-quality photo with the side of the smartphone without approaching it is simply impossible.
Finally, last year's flagship has a battery capacity of only 3600 mAh, and fast charging reaches a power of 24 W. That's without considering the fact that wireless charging is out of the question at all.
Meizu 17 and 17 Pro - release date and price
In China, the devices went on sale on May 11. Their cost is as follows:
- Meizu 17 by 8/128 GB - from 523 dollars;
- Meizu 17 by 8/256GB - from 565 dollars;
- The Meizu 17 on 8/128GB for $607;
- Meizu 17 by 12/256 GB - from 664 dollars.
Please Subscribe to our newsletter, follow us on FB or IG and get notified of our promotions and new launches!