Huawei Nova 4 - smartphone from the future
February 07, 2019 • Android • new-launch • News • huawei
Modern devices for communication with world which also known as smartphones have moved so far away from their ancestors that they even wonder how much mobile gadgets have evolved. Modern smartphones do not really have physical keys (except for the most necessary ones), their screens even have no frames. As a result, we have truckload of frameless devices, which are simply a screen without unnecessary details. If at the beginning of last year manufacturers still left at least some frames around the screens or provided devices with cutouts, where important sensors were placed, now its simply tales of the past. From now on in the world of mobile technology full-screen devices are gaining popularity with small openings in the display, where the front-facing camera is located. Yes, the future has come and one such futuristic gadget will be discussed today - we meet Huawei Nova 4.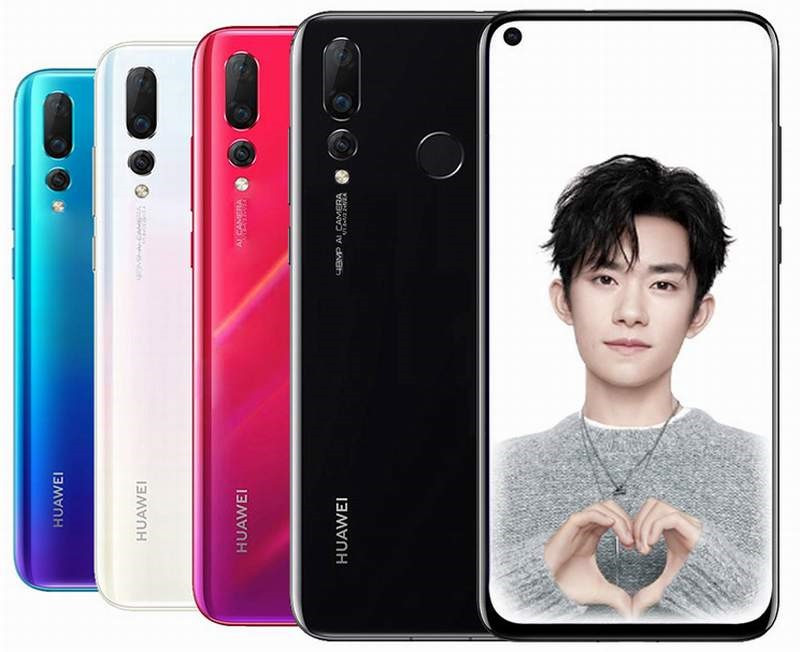 Huawei Nova 4 - absolutely frameless flagship with unsurpassed design
Despite the fact that the Nova device line is not leading for Huawei, cause all the latest developments usually introduced in Huawei P and Mate series, sometimes company deviates from the rules. So it happened with Huawei Nova 4, which was the first of all devices of the brand to try on a new full-screen design with a hole for the front camera. Due to this, useful area of ​​the display is close to the record - as much as 92%. This is a lot, although there is still a small indent at the bottom of the screen in Nova 4 and this is due to the location of the display cable in that place. The case of the gadget offers modern materials, metal and tempered glass, and all the colors of the case have a pleasant gradient.
The Nova 4 screen is a smart 6.4-inch IPS LTPS-matrix with rich colors and a high resolution of 2310 × 1080 pixels. Thank to it useful area of ​​the display is very high, such a large screen turned out to fit in the dimensions of 5.5 inch smartphones with an aspect ratio of 16: 9. The top 10-nanometer Kirin 970 chipset, which is also used in the flagship Huawei P20 and P20 Pro, is responsible for the operation of the device. In Antutu, he is gaining more than 270,000 points, which means it's not worth worrying about the smoothness of the Android system or heavy toys. In addition, the powerful processor is also supplemented with 8 GB of RAM, and 128 GB constant - this set of memory is valid for the most advanced modification of the smartphone.
The camera Huawei Nova 4 deserves special attention - it is triple.
The main camera consists of an advanced Sony MP IMX586 sensor of 48 MP with a f / 1.8 aperture, 16 MP of a wide-angle photo module with a f / 2.2 aperture and 2 MP of a photo module with f / 2.4 responsible for measuring the depth of the photo (used for portrait photos). It is important that 48 MP in the dark turn into 12 MP with very large pixels, 1.6 microns in size - this provides an unsurpassed photo quality, which is also improved by artificial intelligence algorithms. The front camera of Huawei Nova 4 is also at an altitude - a resolution of 25 MP with an f / 2.0 aperture for high-quality selfies.
Huawei Nova 4 also boasts excellent autonomy, as the battery capacity is 3750 mAh. For charging, the Type-C port is used, plus Huawei Super Charge is supported by fast charging up to 18 watts. At the same time, Huawei does not require a lot of money for Nova 4, but the exact cost of the gadget will appear on our website very soon. At the moment, you can pre-order a smartphone.
Subscribe to our newsletter or follow us on FB and be notified with latest launch and promotions.