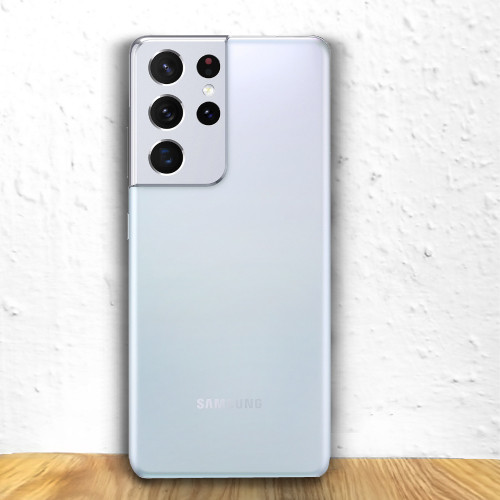 Samsung Galaxy S21 Ultra 5G Dual Sim G998B 256GB Silver (12GB RAM) + FREE S21 Ultra Carbon Fiber Texture Shockproof TPU Phone Case
---
Product Reviews
Googoleltd
01 Apr 2022

GOOD Transaction.
Tommy
11 Mar 2022

I have been using the Galaxy for 2 weeks and the screen may flash. Other than that, there is no particular problem.
IJAHMAN 94
17 Feb 2022

Achat d'un Samsung S21 Ultra 5G, 16Go Ram, 512Go, payé via Paypal, prix attractif. Commande passée le 30 janvier (avec les fériés du Nouvel An chinois), Reçue le 16 février par Colissimo (les frais d'envoi seuls suffisent dans ce cas) : délai correct vu les circonstances. Coffret article neuf, emballé d'usine et colis bien conditionné. Expérience shopping satisfaisante. Site fiable et recommandable.
Juan José Gutiérrez Torres
09 Feb 2022

Estoy interesado en el Samsung Galaxy S21 Ultra 5G con 512GB de memoria interna y 16GB de memoria RAM. Veo que disponéis de él, pero ¿viene en castellano y con todo listo para España?
Luca
05 Feb 2022

Perfetto????
zourvas
24 Dec 2021

Everything was perfect only slow delivery
Kio. A
08 Sep 2021

This is my first Samsung phone. I think I was right to chose the sliver one. It's brilliant. It shifts to several colors(like white silver, pink silver-ish) from some angles. I can't recognize the faster speed compare to other phones past few years, no stress for everyday. And its camera is stunning. I like to use Single take mode, it usually suggests me best, funny and interesting shots.
Arronno
13 Jul 2021

I was really confused because I've never heard about this site. Because this is a matter of 1500+ USD, initially, I didn't want to take the risk of fraudulent activity like the phone being a duplicate or a used one or the processor not being Snapdragon 888. But when it arrived, at the first glance, I realized it's an original one and brand new. The camera quality is beyond description and the AMOLED display with 120 Hz refresh rate will give you the fluidity you've never imagined. Recommended !!!
Jon
07 Jun 2021

This model SM-G9980 CSC -TGY (Hong Kong) is IMHO Samsung's finest smartphone. It has no carrier bloatware providing as close as one can get to a pure android experience on a Samsung device. The unlocked bootloader adds increased flexibility for tweeks and custom roms and the internal storage capacity is more than enough to forfeit the MicroSD. I'm very impressed with battery endurance and camera performance. Is it pricy? No doubt but Etoren is very competitive in this regard. I had ordered one at a different retailer but canceled before shipment due to horrible customer service. My transaction went super smooth as Etoren promptly addressed my before purchase concerns and delivery was incredibly fast. I would highly recommend this retailer regardless of your location. Great job Etoren, you've earned a customer for life!!!
Miguel Ángel
15 Mar 2021

Pagaria gastos de aduana e iva al llegar o ya esta todo incluido en el precio final.
Pedro
16 Jan 2021

O celular é desbloqueado
Pedro
16 Jan 2021

O celular é desbloqueado